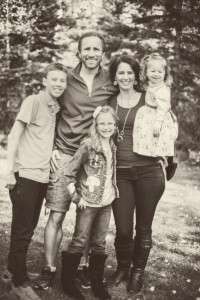 (photograph from Karrie Denise Photography)
It's hard for me to sit and write my story as I am just an ordinary woman. I pray the Lord's name will be praised as I convey my heart in this short story.
In 1998, Steve and I were married and made our first home in Anchorage, Alaska where Steve was raised. In 2000 we were overwhelmed when God blessed us with a baby boy—Alex.
When Alex was 4 years old, we began a journey of memorizing scripture together while I struggled with infertility. I wanted to see if a young child could actually do it, not realizing the impact it was having on my own life. It helped to take my mind off my current situation and helped me focus on the Lord. I remember sitting in the doctor's office after years of infertility treatments and surgeries and the doctor telling me that we had a less than 1% chance of ever getting pregnant. Oh how the tears flowed. However, I knew that the Lord was good so we continued to put our trust in Him.
After 5+ years and much prayer, our precious daughter, Adria was born in 2006. Oh the joy to our family! I stayed committed to helping both my children memorize God's Word.
Our Memorization Journey: Over the subsequent years, Alex (and Adria many as well) has memorized the book of Jonah, John 15, Romans 12, Luke 2, Matthew 2, 1 Corinthians 13, Ephesians 6, John 10:10-18, Psalms 1, 37, 42, 43, 103, 119, 139.
In 2010, I miscarried just one day after we had shared the wonderful baby news with our two children, who were then ages 10 and 4. Alex sobbed like I'd never seen him cry before. He kept asking "Why would God take our baby away from us?" I remember sitting on the couch holding our crying children, and asking God all the same questions they had. With tears in my eyes, I explained to them that although I didn't have the answers, I did know the One who held the answers. I told them that we were going to memorize Psalm 139 together, for in those verses lies a deep sense of satisfaction of God's great love for every child. A few months later we all had these verses memorized. When times of doubt resurfaced, we would remind each other of God's promises. I could never doubt God's love for me and our precious baby while listening to a 4 year old recite these verses by memory.
God's Word can be powerful and life-changing even for a small child.
October 2012 brought another surprise—Allie Grace. I turned 40 that year and Steve was 46. God has spaced our children 6 years apart for some reason and now we have the privilege of raising them to trust and honor Him with their lives and to hide God's Word in their hearts. It's another opportunity to live out this commitment to memorize God's Word.
As the time of high school drew near, Steve and Alex entered into a "Proverbs contract" where over the next 3 years they will memorize the book together. It's been a great way for a father and son to lovingly press on as they memorize words of wisdom together. We want Alex to be equipped for life and what better way than to hide God's words in his heart.
So we attempt to begin again with memorizing scripture, and a two year old. God's Word is a guaranteed investment because not a word of it will return void.