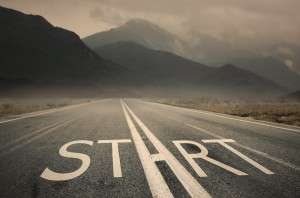 Beginners' questions give me a rush of adrenaline. I'm eager to help anyone avoid some common pitfalls because I had no one to ask when I started memorizing more than 20 years ago. I began with the book of Ephesians, but I don't recommend it. I've seen too many people quit because a lengthy passage got the best of them. The long road ahead overwhelmed them before they'd built up confidence that they could do this. They hadn't yet altered their daily routine to accommodate the review that's required in a long book.
I tell people to start with something small.
Psalm 1 tops my list of perfect places to start. It's short—only six verses. It addresses the cultural challenge we face today—influence from a secular society contrasted with the influence of God's Word. And it gives us a visual of someone who succeeds because he meditates on God's Word day and night. Like a tree planted by streams of water, he bears fruit in season and never withers. Who wouldn't want to be like that? Psalm 1 takes only one minute to review, proving itself doable for absolutely everyone. When a person first takes on the challenge of memorizing they haven't yet trained themselves to capture large pockets of time in their day. But everyone has one minute, and you can easily find many one-minute segments throughout your day.
If you've already memorized Psalm 1, other suggestions include:
• Psalm 121
• Psalm 100
• Psalm 23
• Psalm 4
• Psalm 8
If you want to start with a book, I recommend Titus. It's 3 short chapters jam-packed with essential doctrine and practical instruction. In my book His Word in my Heart, I walk the reader day-by-day through the book of Titus, taking a break between each chapter. You'll be amazed at how much you'll learn from a book you've probably read at least a dozen times. The book of Titus will also raise your confidence that you can memorize an entire book.
Different opinions from our online community of memorizers will balance mine. My friend Lise, jumped right into the book of Luke for her first passage to memorize. I asked her if she wished she'd started with something shorter. She said, "No". I was surprised. She explained that Luke is a compilation of small stories, and she takes them one at a time. Even a large book when broken into smaller bites becomes doable. Lise says to pick a passage you love that speaks to your heart, and this will keep you motivated.
Our online community offers encouragement, insights, and a place to ask questions. So, I'd love to hear from the community what advice you would offer to beginners. Or, which passage did you start with, and would you recommend it? And for you beginners, this is a great time to ask your questions.