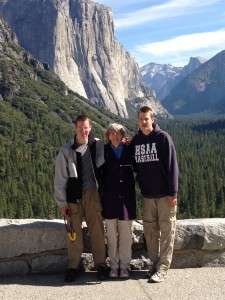 Several years ago, my friend Susan opened her home to our neighborhood Bible study so that we could hear Janet Pope recite Scripture. Janet's recitation was amazing, but as I sat quietly listening I told myself that I just didn't have the time or ability to do that kind of memorizing. I am 57 years old and not at the peak of my memorization skills. My husband and I homeschool two boys and practice law out of our home. I do all the normal household activities and the only time that I really consider "free" is the time I take three times a week to jog. I just didn't know where I could find time to memorize Scripture.
Then Susan recited for our group Luke 1 and 2 from memory. I cried at the beauty of hearing a story that I had heard so many times in a new and wonderful way. I was struck by God's awesome love in sending His Son. I walked home from Susan's house and told my husband "I want to do that!" and I started working on the Christmas story in Luke 2.
After memorizing the Christmas story I asked God what I should do next. I believe He wanted me to just keep working on Luke. I didn't feel intimidated by the length of the book because I realized that I would be taking one verse at a time wherever I was in the Bible.
I became involved in a Bible memory group and a friend in that group, Nan, encouraged me to memorize Scripture when I jog. My free time is now even more special. I look forward to walking out the door with my printed passage rolled up, and I'm amazed at the things God is showing me in the passages I am memorizing. I'm now on Luke chapter 10.
I've been struck by the wonderful blessing it is to ponder and meditate on Jesus' life and teaching in a way that I would never have thought possible. I was excited to learn recently that 586 of the 1150 verses in Luke are quotations of Jesus.
I realize now that when I am ordering my day, I am making choices and that I will be richly blessed if I make memorizing or reviewing my chapters in Luke a priority. Memorizing and meditating on Scripture has been one of the greatest blessings in my life.