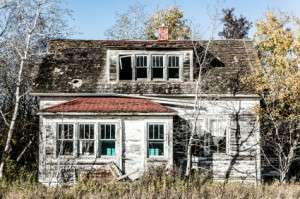 Seeing a run-down house carries me back to the time when Ethan and I got involved in a renovation project in our neighborhood—a large house, 70+ years old, in a dilapidated state. The family moved away, the house went into foreclosure, and after sitting idle with no up-keep for more than a year, it began to look like a jungle over there. Concerned neighbors panicked when a rumor circulated that a potential buyer planned to rent this large house to college students. Yikes!
An ultimatum lay before us with time running out. Who will buy this decrepit home, restore it to its original glory, and save the neighborhood? You guessed it—we bought the house. One reason pushed us over the edge—only a fence separated our two properties.
We recruited another couple and the project began. We tore out everything detachable and replaced it. We added a front porch, a new roof, painted every square inch inside and out, bought new appliances, counters, flooring and light fixtures. Ecstatic neighbors dropped by, showering us with enough praise to keep us going.
Everyone loved watching this transformation!
We completed the project in about 6 months, working mostly weekends and evenings. The before-and-after pictures tell the story of the neighborhood eyesore transformed into a showplace.
This is analogous to what God wants to do with us. He wants to strip away our old character, corrupted by the world and by sin, and replace it with the godly nature of His Son Jesus. How does God accomplish this? His Spirit and His Word work together.
"And we, who with unveiled faces all reflect the Lord's glory, are being transformed into His likeness with ever-increasing glory, which comes from the Lord, who is the Spirit." 2 Cor 3:18
"…when you received the Word of God … you accepted it not as the word of men, but as it actually is, the Word of God, which is at work in you who believe." 1 Thess 2:13
"…He has given us His very great and precious promises, so that through them you may participate in the divine nature …" 2 Peter 1:4
"Do not conform any longer to the pattern of this world, but be transformed by the renewing of your mind…" Rom 12:1-2
When we memorize Scripture, we give God's Spirit something to work with. God's Word and God's Spirit come together to transform us.
Ultimately, the world will see the transformation in us and praise the Master Builder!