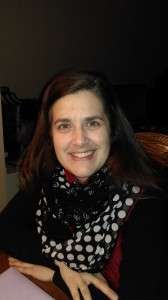 Hello, my name is Martha. I live in central Indiana with my husband of 23 years and our 3 children ages 15, 13, & 11. I was blessed to be a stay-at-home mom to our children until they headed off to school. I entered the workforce again when our youngest was in Kindergarten. As I am working, I am able to listen to various radio programs and podcasts. One day I heard talk show host Nancy Leigh DeMoss on Revive Our Hearts interviewing Janet Pope about her ability and techniques to memorizing Scripture. God used that particular program to inspire me to start memorizing scripture, which has blossomed into a real hunger to know it as well. Janet recommended writing the Scriptures on a 3×5 spiral to help with the process, so I chose to start with the book of Philippians.
Three days a week I have a 45-minute commute that is perfect for putting the Book of Philippians in my mind and heart. In addition to the cards, I also use my Ipod to record and check for accuracy.
I never would have thought it possible for me to memorize such a mass quantity of Scripture until I realized it is simply adding one verse to the next.
I have developed a real hunger to memorize God's Word, and I know that "I can do all things through Christ who gives me the strength" (Phil. 4:13). After much discipline and hard work, I was able to memorize the entire Book of Philippians in about 5 months. I am happy to report that the journey continues for me as I am now working on memorizing Jesus' Sermon on the Mount.