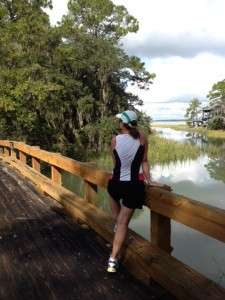 Wow I never new a group like this existed! I appreciate the invitation from Janet Pope. I wrote Janet and read her book His Word in My Heart, encouraging me that memorization was a worthy goal.
This year was my 60th birthday. My prayer is to memorize the book of Hebrews this year. This is why and this is how one step led to another…..
I am a cardiology nurse practitioner. I have a patient in my clinic who had a stroke a few years ago that has affected his memory. His favorite pastime was scripture memory. I would always ask him to share with me where he was in his memory "habit". He last recited Psalm 46 to me.
"God is our refuge and strength, an ever-present help in trouble. Therefore we will not fear though the earth give way and the mountains fall into the heart of the sea……….."

To hear him speak it from his heart brought tears to my eyes. However, his last visit he could not recite anything for me and he cried. I then recited a few verses I was learning from Psalm 27 for him and he smiled! I told him how he had inspired me to develop more holy habits while I still have my being! The body is wasting away yes, but may our spirits be renewed day by day! (2 Corinthians 4:16 – It will happen to us all). Psalm 27 is now my battle song!
"The Lord is my light and my salvation—whom shall I fear?…"

Question? How deep do you want to go with God? —I pray : "deeper-still". I heard Beth Moore recite the book of James herself, and I asked God for that same gift. I love the WORD. I was able to memorize the book of James. Holy habit I am learning: Count it all joy
My theme song learning Hebrews is THRIVE by Casting Crowns. I wrote out the words in my journal. This verse of the song is my answer if someone asks me why I want to memorize the whole book of Hebrews. ….. Into the Word we're digging deep to know the Father's heart! Then if I know the Fathers heart—next verse— Joy unspeakable, Faith unsinkable, Love unstoppable— Anything is possible! Did you get it??? Anything is possible—even memorizing 13 chapters of Hebrews at age 60!
Life is a Marathon not a sprint!! When Janet invited me to join the blog, her greeting was a blessing: "I hope you are thriving in God's goodness"☺. How could she have known that was my song?!! It's a joy to be invited with you in this journey of mining for treasures in His word and singing a new song (Ps. 96:1). It is well…….!