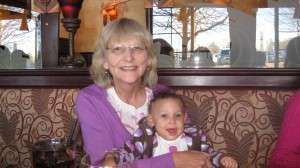 In June 2010, my Mother died. She was my friend, my prayer warrior. She left behind a great legacy. A mother of 10 children. I never knew just how much I depended on her for prayer, for guidance, for a shoulder to cry on. We cried together, we prayed together. She taught me what a Godly mother should be. She loved the Lord and she loved her children. I knew she was ready to go to heaven and I thought I was ready for her to go. I could not find peace after she was gone.
I gave her a Bible 32 years ago when we first got saved and fell in love with The Lord. She read that Bible every day of her life and before she died, she told me she wanted me to have her Bible. I could not read it for a while after she died. Then one day I was praying for Peace in my life. The Lord showed me to start reading my Mother's Bible. I opened it and turned to Psalm 91, my Mother had highlighted the whole chapter. So, I started memorizing Psalm 91 and I could feel The Peace of God come down upon me. God had given me Peace—I was hooked on God's Word.
I started memorizing more scripture and verses, but I was searching for more. I heard Janet Pope speak on the radio one day about her book His Word in My Heart and I sent off for the book and I read it in one day. I said to myself, Lord this is what I need to do in my life. I have memorized Psalm 91, Psalm 1, Psalm 23, Psalm 51 and the book of 2 Timothy. I am now memorizing the book of James, I'm on chapter 3.
What Peace God has given me through His Word!!!
Such Peace, such Joy, only from God's Word. I thank God every day that He has opened my eyes to see that His Word is what we need and must have in our hearts to live for Him. We HAVE TO meditate on His Word day and night to have that Peace of God in our hearts.