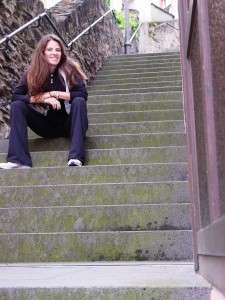 A little over 4 years ago, I walked back into church after an act of disobedience. I knew I needed healing when I walked away from the Lord. I also decided to follow my mom's example by starting each morning with a cup of coffee, a Bible and a small devotional guide. For I knew only God could make my path straight (Proverbs 3:5-6).
The verses in the 1st devotional were Ephesians 6:14-18. I pondered on these verses for months, identifying my real battle – not with flesh and blood but against rulers, authorities, and powers of this dark world. This passage also encouraged me to take up the Sword of the Spirit – not only to defend myself but to remove the rebellious spirit within me. So at a 2010 Goal Setting Party, I decided to take up the Sword of the Spirit by memorizing scripture.
But what passage to start with? I spewed out Psalms 119 at the party. I didn't remember that Psalm 119 has 176 verses – was I surprised! Thankfully, the verses are grouped by stanza. Each stanza has 8 verses which made a mini-goal for me each week. That seemed a little bit more manageable than the whole chapter. So on January 3rd 2010, I began to memorize Psalm 119, and then went on to memorize entire books.
His Word has brought about so much healing in my life. It's as if the Lord led me on a counseling path through the books I memorized. Each of these books and passages that I have memorized are an integral part of my journey back to the Lord:
a) Ephesians 6:14-18: Identifying my real battle
b) Psalm 119: God holding me as he spoke truth to face my guilt and shame
c) James: Encouraging me to live a Christian life again
d) Song of Solomon: Understanding to learn what I destroyed (my marriage)
e) Hosea: Feeling His arms wrapped around me as I faced my sin (my affair)
f) Matthew: Opening my eyes to see Christ as my King and Deliverer
g) Psalms 120-150: Seeing more of the Lord's gift of grace upon my life
h) Joshua: Showing me the depth of sin to grasp His resurrection power.
I'm not sure what the Lord has in store for me next as I venture through memorizing the Book of Acts. But I am excited.