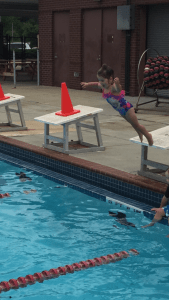 In June, my entire family rendezvoused at my sister's house in Florida. We couldn't wait to swim in the pool. But the mysterious unknown was too daunting for three-year-old Campbell who wouldn't venture out beyond the steps. The blow-up canoe and other enticing pool-toys weren't enough to pry her from her safety spot. She sat on the steps for 3 days with her floaties on, and as her doting grandmother, I sat there with her. We all concluded that a pool is a lot more fun when you know how to swim. When they returned back home, my daughter decided it was time for swimming lessons.
A few questions:
Are swimming lessons stressful for a three-year-old? Yes, terrifying. Thankfully I wasn't there for the weeping and gnashing of teeth.
Which is more important, that your child have a stress-free life or that they learn to swim? Swimming is a necessary life-skill that doesn't come without a little anxiety for both the child and the parent.
Which is more dangerous, swimming lessons or not knowing how to swim?
For adults it's a no-brainer, but a three-year-old envisions water up her nose, gasping for air, sinking to the bottom, and complete panic. She has serious doubts when you tell her that:
• Swimming lessons won't harm you—they will help you.
• You'll have more fun when you learn to swim without floaties.
• You can't drown at swimming lessons because someone watches over you.
Soooooo many parallels for the Christian. Perseverance and conquering one's fears are part of God's training program of essential life lessons.
These lessons will not harm you—they will help you.
We agree in theory, but some days we feel like we're going under, gasping for air and sinking into panic mode. We cling to our floaties because our faith wavers and we don't trust that Someone is watching over us.
What is true in the physical realm is also true in the spiritual realm: "the testing of your faith produces perseverance. Perseverance must finish its work so that you may be mature and complete, not lacking anything." James 1:3-4
I'm happy to report that six weeks of swimming lessons has transformed Campbell into a fearless fish. She's jumping off the diving board and having a blast. Only on this side of swimming lessons does she understand that a pool is a lot more fun when you know how to swim.
Likewise for us, life is more meaningful when we've learned the essential life lessons God has for us.
He loves us too much to confine us to the steps of the pool.
I'd love to hear your thoughts.