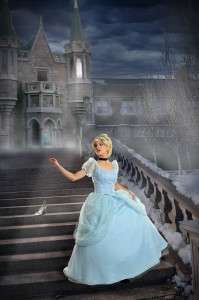 Think of your favorite movie, or your favorite novel. Is it one without struggle, defeat, a mid-course crisis? Not likely. The greatest movies of all time, the blockbusters, fill the screen with nail-biting tension, heart-ripping agony, the devastation of war, a lover's betrayal, impossible odds, and utter despair. What pulls us into the movie is not the pain, but the overcoming of adversity, the denouement of redemption, the villain conquered, good defeating evil. We crave movies with heroes, but without conflict they don't show up.
On a recent visit with my little granddaughters, we watched the new Cinderella movie three days in a row—yes, we did. What is it about this classic that magnetizes us? It's not the light-hearted storyline or the surprise ending. It's the combination of the protagonist, Cinderella, and the setting in which she is trapped. We sigh at the news of her father's death. We feel her heart drop when forbidden to go to the ball. We hold our breath when the prince glances up and sees her at the top of the stairs.
What if Cinderella's parents had not died? What if she'd grown up happy-go-lucky and in due time married the prince? Boring and unrelatable. There may be stories like that, but we don't remember them. We're drawn to movies that mirror the challenges of real life, but turn out in favor of the underdog.
The make-believe aspect of Cinderella doesn't lessen the impact. We all secretly hope for a supernatural force in our story. We too have hurts, and long to be rescued and taken to a safe place where we live happily ever after.
Why did the author of Cinderella put so much hurt in her story? And why does God allow hurt in ours? In life and in literature we find a similar paradox: struggle enhances the effect—the greater the pain, the greater the gain. For Cinderella, her crushing grief, cruel treatment, and waning hope, magnifies her beauty and her kindness. The happily-ever-after is sweeter because of what she endured.
We find these same elements in the gospel—God's story of redemption. The beauty of the cross hides until we find ourselves hopeless. The rescuer is not summoned until we find ourselves lost. The hurt obscures its value until the journey leads us home.
The ideal movie is not the one without conflict. The ideal book is not the one without tragedy. The ideal life is not the one without hurts.