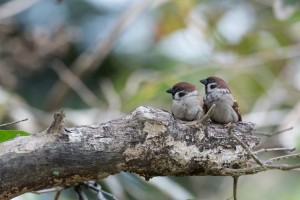 In Matthew chapter 10, Jesus sends out the twelve disciples on a mission without him. He gives them specific instructions, "take no money or extra tunic, etc." It's one thing to follow Jesus around and watch him preach and perform miracles; it's quite another to go out in his name and do the same. Jesus doesn't sugar-coat this challenging mission. He warns them that opposition awaits them, "All men will hate you because of me." He addresses their natural reaction by telling them three times, "Do not be afraid."
Being Jesus' representative in today's hostile world can likewise make us fearful. We hear and read about bad things happening to Jesus' followers. This doesn't catch him by surprise, nor should we be caught off guard. Jesus tells us and prepares us in advance. He doesn't throttle down the mission. Instead, he lets us know he's in control and comforts us with these words:
"Are not two sparrows sold for a penny? And not one of them will fall to the ground apart from your Father. But even the hairs of your head are all numbered. Fear not, therefore; you are of more value than many sparrows" Matthew 10:29-31.
In the marketplace of Jesus' day, a sparrow sells for 1/32 of a day's wage. In spite of their low worth, not one sparrow dies apart from God's sovereign will. He cares about the lifespan of each bird, how much more does he care about the one who bears his name and speaks his message.
And what's he saying about the hairs on our head? The word numbered is the word counted, chosen intentionally to mean that God doesn't just know the number of hairs on your head—he determined them, he counted them out.
Our God is in the details. He involves himself with seemingly insignificant things: common sparrows and the hairs on your head. If God cares about these, how much more does he care about the details of the mission Jesus left to his followers. With every event scrutinized, no one can harm us apart from God's will.
John MacArthur comments on these verses, "Not merely "without his knowledge"; Jesus was teaching that God providentially controls the timing and circumstances of such insignificant events as the death of a sparrow. Even the number of hairs on our heads is controlled by his sovereign will. In other words, divine providence governs even the smallest details and even the most mundane matters. These are very powerful affirmations of the sovereignty of God." (The MacArthur Study Bible, page 1377)
We naturally fear when we have no control over a situation. God assures us that he's in complete control—every bird watched, every hair counted.
I'd love to hear your thoughts.