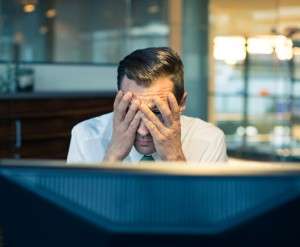 Nothing stings quite like the pain of regret. We've all made poor choices that have hurt us deeply. We've also wounded others and we live with those regrets. Hasty decisions have changed the course of our lives for the worse. We regret opportunities that we let slip away.
These memories haunt us, and immobilize us. Nagging thoughts replay in our minds: "Oh I wish I hadn't done that." "My life would be so different if only …" "Why, oh why? What was I thinking?" We lament, we grieve, we beat ourselves up over past mistakes. If it were only possible, we'd give everything we have for a do-over.
So what can be done with the pain of regret? Does the Bible give us any hope?
The apostle Paul tells us that "everything that was written in the past was written to teach us, so that through endurance and the encouragement of the Scriptures we might have hope" Romans 15:4.
In Judges 13-16 we read the story of Samson. He is chosen by God and set apart in the womb for a stated purpose—to deliver Israel from the Philistines. Throughout his life he fails miserably at every turn. His lust, entitlement and pride rule him—and ruin him. His last days, we find him shackled in prison with his eyes gouged out. But those monotonous days, grinding grain for his enemies, give him time to reflect on the disgrace he has been to his noble calling, the laughingstock he has become in Israel, the shame he has brought to his family.
At a celebration to their god, Dagon, Samson is summoned to entertain the Philistine rulers, along with 3000 men and women—one more humiliation for this pathetic and pitiful figure. But today would be different. Samson sees one final opportunity. Mustering his courage and his faith he prays to the One whose mercies are new every morning,
"God, remember me, and give me one more chance…"
He asks a servant to lead him to the pillars that hold up the building, so that he can lean on them. God answers Samson's prayer and strengthens him one more time. Samson pulls down the coliseum destroying all the Philistines. Judges 16:30 records, "He killed more when he died than while he lived."
And what is Samson's legacy? Samson exemplifies one who begins poorly but ends well. In spite of a tragic beginning Samson fulfills the calling on his life—in one day.
To the surprise of many, we find him in Hebrews 11, a record of those who were commended for their faith. How in the world did he get there?
The God of mercy, the God of one more chance, called him faithful.