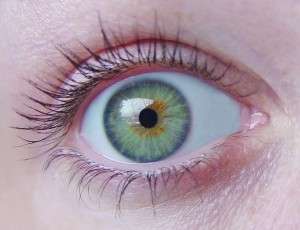 After college we gave our daughter what she describes as "one of my life's greatest gifts"—lasik surgery. Since the second grade Natalie had worn glasses or contacts, barely able to see without them. When we arrived at the surgery center, I was told that I could watch the procedure in another room. Not sure if I wanted to witness this, I entered the screening room and waited. On a large monitor, about 3 feet by 2 feet, Natalie's magnified green eye took up the entire screen. Wow!
I sat amazed in wonder. "This is my daughter's eye!"
Two things blew my mind. First, God's intricate design of the human eye—every speck of color: green, yellow, brown, blue. Such detail and such beauty—a masterpiece concealed. Second, I pondered this modern medical technology. Fifteen minutes per eye transformed her vision from impaired to perfect—a marvelous gift indeed!
The Bible draws parallels between physical sight and spiritual sight. Jesus asks, "Do you have eyes but fail to see?" (Mark 8:18). The answer, a disappointing yes, because our sinful nature distorts our view. We can't discern spiritual truth if we rely on human eyes. Our short-sightedness limits our reasoning, our logic, our judgment.
God wants his children to see clearly and he gifts us with new sight. Part of our new nature is an enlightened heart and mind. The truth of God's Word and the anointing of God's Spirit work together to open our spiritual eyes (1 John 2:20, 26-27; John 16:13,15). Psalm 19:8 tells us "The commands of the Lord are radiant giving light to the eyes."
Paul writes to the Corinthians, "For God, who said, 'Let light shine out of darkness,' made his light shine in our hearts to give us the light of the knowledge of the glory of God in the face of Christ" (2 Cor. 4:6).
Just as lasik surgery alters human sight, God's Word and God's Spirit give us spiritual perception.
Paul prays for believers to have spiritual insight in order to grasp truth, "I pray also that the eyes of your heart may be enlightened in order that you may know the hope to which he has called you, the riches of his glorious inheritance in the saints, and his incomparably great power for us who believe" (Ephesians 1:18-19). If we could only see a fraction of the spiritual resources available to us, our lives would be radically different.
"Open my eyes that I may see wonderful things in your law" (Psalm 119:18).
How has memorizing Scripture improved your vision?