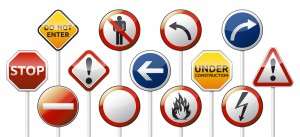 I reached my limit. A solid month of storms in Dallas left many residents, myself included, with warning fatigue. The middle-of-the-night ritual of ear-piercing weather alerts from my phone felt like the one-drop-at-a-time water torture. The thunderstorm wasn't loud enough, so now we need to be woken up with a reminder?
I finally put my phone in another room far away so I didn't have to listen to the constant alerts. Yes, I realize you can change your settings and eliminate them all together, but in a warped sort of way, I want to be alerted, just not every night. Since there was nothing I could do about the thunderstorm, tornado or flash flood, I became weary of all the warnings.
Not good.
Reminds me of our post-Christian nation now calloused to the warnings of God.
Jeremiah asks,
"To whom can I speak and give warning?
Who will listen to me?
Their ears are closed so they cannot hear.
The word of the LORD is offensive to them;
they find no pleasure in it." Jeremiah 6:10
The blame lies not with secularists who disregard the holy Book. God finds fault with his church. We're experiencing right now the fallout of years of neglecting God's Word. The Christian church, mandated to be the pillar and support of the truth, is weak, malnourished and ineffective. In countless pulpits, the Bible is not taught, or learned, not preached, and consequently, not obeyed.
The warnings, not within earshot, go unheeded.
In Jeremiah's day, God's people had also veered away from His Word. They ignored God's Law and refused to listen to His prophets. God compared these people to a useless linen waistband, ruined by neglect.
"These wicked people, who refuse to listen to my words, who follow the stubbornness of their hearts and go after other gods to serve and worship them, will be like this belt—completely useless! For as a belt is bound around a man's waist, so I bound the whole house of Israel and the whole house of Judah to me," declares the Lord, "to be my people for my renown and praise and honor. But they have not listened" Jeremiah13:10-11.
If the church of Jesus Christ does not return to God's Word, the standard by which we are to govern our lives, then we will not be a people for God's renown and praise and honor, but we will be useless.
I welcome your feedback and input on the state of the Christian church in America.