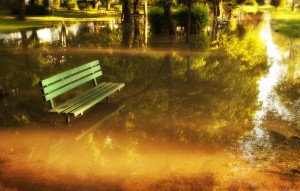 "Rain, Rain go away, come again another day" —how about mid-summer, when its dry and parched and 100 degrees? For now, waterlogged Dallas gets no break, with more rain forecasted.
One of the Bible's most common metaphors, water symbolizes life and spiritual vitality that come from God's Word. Isaiah writes,
"As the rain and the snow come down from heaven, and do not return to it without watering the earth and making it bud and flourish, so that it yields seed for the sower and bread for the eater, so is my Word that goes out from my mouth: It will not return to me empty, but will accomplish what I desire and achieve the purpose for which I sent it" Isaiah 55:10-11.
God compares His Word to the rain and the snow that water the earth, and cause life and growth, and bear seed for more life and growth. So, with that said, is it possible to have too much rain? Too much Bible?
Yes.
Starting with rain, the ground reaches a saturation point, dangerous for the soil, the vegetation, and becomes a breeding ground for mosquitoes, and for Dallas in particular—West Nile Virus.
Next, the Bible. How is it possible to have too much? The Bible shouldn't function as an end in itself. It's a channel through which we know God, and understand his plan for humankind. He intends for us to take it in, and then live it out and pass it on to others.
James tells us, "Do not merely listen to the word and so deceive yourselves. Do what it says." He's warning us not to be waterlogged Christians.
In this age of biblical illiteracy, I would never want to discourage brothers and sisters eager to memorize God's Word. But if we're just standing under the rain-spout without being a conduit to others, we've missed God's purpose. We're deceived.
Don't be fooled by the greenness at the park—on closer inspection it contains a lot of weeds.
Practically speaking, God intends for us to take in the water of his Word:
• For information
• For transformation
• With meditation
• With self-examination
• For future communication
Evaluate your own intake of the Word.
Are your flourishing as God intended, or, are you standing in a pool of water?