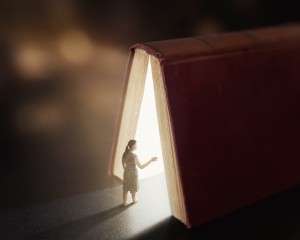 In every generation humans have been compelled to store away lines from poems and songs, movies and speeches. Shakespeare devotees still thrive in the 21st century.
We borrow the beauty and strength found in someone else's words, and take ownership—mantras we wish we could have said. We walk with Robert Frost in The Road Not Taken. We taste the bitterness of another in, I Know Why the Caged Bird Sings. Patriotism wells up as we Pledge Allegiance to the Flag. Beach Boys' lyrics take us back to a carefree place and time.
Memorized lines connect us to the one who penned them.
When we memorize we take abstract longings and give them a stage. Words wound. And heal. For better or worse, whether the words are true or false, what we memorize becomes part of us.
I memorize the Bible likewise. The Book of Books connects me to the Author of all. His Word rescues me from my world and ushers me into His. As he unveils his thoughts and unfolds his plan, I embrace him for who he is, and slowly let go of who I want him to be.
In time, my watered soil responds to the One who loved me first. I recite aloud the Sermon on the Mount and with each line conviction builds. I choose the narrow road and reject the one that glitters. Living words linger in my mind and filter out the chatter.
When goblins swallow me up, and phantoms rob my sleep, I grab hold of Psalm 27. "The Lord is my light and my salvation. Whom shall I fear? The Lord is the stronghold of my life. Of whom shall I be afraid?…" Light dispels the darkness and calms my fluttered heart. King David's words become my words of worship, as I repeat them back to God.
Why do I memorize the Bible?
Because it takes me where I cannot go myself—to depths and heights of knowing and treasuring God. It connects me to the One who was anointed with the oil of joy, the One also known as the Man of Sorrows, familiar with suffering and acquainted with grief.
For truth revealed and sins concealed
To make me wise, and negate the lies
To transport my thoughts from empty lots
To point the way, and enhance my day
It's my refuge from life's toll, an oasis for my soul.
Why do you memorize the Bible? Or, why are you hesitating? I'd love to hear your thoughts.