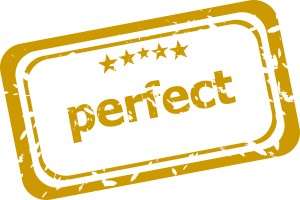 Last week I got an email from someone in our online community. Her question is one I've received many times so I thought it might be helpful to address it today.
When memorizing, is it required to have every word perfect? Or is close good enough?

It's actually a two-part question.
One reason why it is tricky to get it 100% accurate is because every time we say it incorrectly, the brain records that. So if you're learning a new verse, you must say it correctly many times (maybe a dozen times) so that the other option is not even considered by the brain. One way to accomplish that is by saying it out loud while reading it, several times, and then several more times. You will not say it incorrectly if you're reading it. However, our natural tendency is to say it one or two times, and then GUESS if we can say it without looking. The problem is that once you guess wrong it's now in your brain as another option.
You can correct the error, but only by saying it perfectly many more times, so that the brain sees this is the natural choice. The brain is an amazing gift. And we can tell it what to recall.
The next question is, how important is it that you get the verse 100% accurate? That is an easier answer, which is, "That's up to you." Some people want the verse absolutely word for word. Others don't mind if they change it up slightly as long as it's saying the same thing. It's a personal choice.
I like to get it perfect because it makes review a lot easier and quicker. If you change up the words, sometimes it messes up your connection to the next verse. And keep in mind, some small changes can alter the meaning of the verse.
The enemy of our soul doesn't want us to give any attention to God's Word, so if he can discourage us by the technique of memorizing, and make us quit, he succeeds.
Always remember that the goal is to know God and walk closely with him. If you change up the words a little, but you are loving God more by being in his Word throughout the day, then you are achieving your goal. And wow, what a great thing to be able to say "I love God more today because I said his words over and over and I feel so close to him."
I'd love to hear any other thoughts on this question.