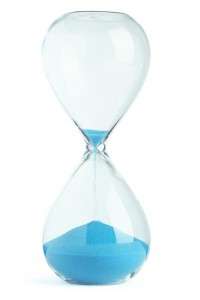 "Be very careful, then, how you live—not as unwise but as wise, making the most of every opportunity, because the days are evil." Ephesians 5:15-16
This is the theme I've chosen for 2015—making the most of every opportunity.
With 365 days in the year, and already a few consumed, what will I do with these days? Goal oriented, and often tunnel-visioned, I routinely shut out the world around me, and zero-in on the tasks at hand. Sure, I squander a few days, but more often, I simply let opportunities pass by, unaware of divine appointments, oblivious to seize-the-moment chances.
Time is a thief—it takes from you what you can never get back.
I feel the weight of that statement particularly this year because in a few months I will turn 60. Yikes! Milestone birthdays are a not-so-subtle reminder that the sands of time seep through relentlessly, with no plug, and no reversal mechanism. And most of my sand lies on the bottom half. With that acknowledged, I can either be discouraged or determined—I choose the latter.
Each year I print out my goals and tape a copy into my prayer book so I can pray through my goals regularly. This year I wrote MAKE THE MOST OF EVERY OPPORTUNITY across the top, drew a pink box around it, and squiggle-underlined EVERY in orange. I intend my extra effort to cause me to pray more earnestly for wisdom each day, discernment in the many options before me, and spiritual antennas that alert me to surprise encounters that God sends my way.
What about you? I know I'm not alone in the battle of urgent versus important, distraction versus decision. Too many options send us into a default mode of doing nothing, or letting someone else pick up the slack. Let's pray for each other this year—to be purposeful and careful with our time, cognizant that God has given us each assignments in his grand narrative, and that some one-shot opportunities close quickly. Life, a precious gift comprised of small moments, cannot be re-lived. We've got one chance to seize it. Let's make the most of every opportunity.
I'd love to hear your theme verse for the year, or what God has laid on your heart for 2015.