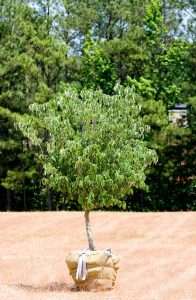 Spring is just around the corner. Time for planting trees and shrubs and flowers. Who am I kidding? I've never planted anything in my life—and I'm good with that—no green thumb here. But we're still going to talk about planting, because spring represents a time of new life and growth and beauty, after a winter season of leafless trees and brown grass.
In Psalm 1, God gives us a metaphor to describe the blessed person:
"He is like a tree planted by streams of water,
which yields its fruit in season
and whose leaf does not wither,
whatever he does prospers."
The tree represents a life. The water represents God's Word. This healthy tree flourishes because it is planted close to the water—its life source. Likewise our souls flourish by our intake of the Scriptures. It is water for thirsty souls.
I remind you that the Psalms were originally written for the nation of Israel, and we are the gleaners of these rich truths. Israel is a semi-desert region with almost no rain from May through October. So how can a tree in Israel have abundant water in such a dry climate? The answer is intentional planting. They didn't just plant a tree anywhere and hope to find water. They found the water first and then planted the tree. Brilliant!
Psalm 1 is a wisdom psalm. And what is the wisdom in this psalm? Plant yourself by the water. Don't just plan your days and weeks hoping that God's Word will fit in somewhere—be intentional. Arrange your schedule in such a way that God's Word is always watering you, always accessible. You are the tree. Without water you will wither and dry up.
This is why we memorize passages of Scripture. It's an intentional way to keep God's Word on our hearts and minds throughout the day. Most verses can be recited in less than ten seconds—ten seconds! Most chapters can be recited in two to three minutes. Even with a jam-packed schedule there is always time for a verse, and then the next one, and then the next one. This keeps you flourishing throughout the day. When we're not intentional the demands of the day swallow us up and deplete our reserves.
This morning I got up and reviewed the psalm I am currently working on—Psalm 96. Then after breakfast I went walking and reviewed it a few more times. Now I'm writing this blog. Shortly I will take a shower and memorize some more while getting ready for the day. After a few hours of desk work it will be lunchtime and I will review again. More desk work. Late afternoon I have a dentist appointment so as I drive I will review other passages including Psalm 96. Then there's the drive home, cooking dinner, evening tasks, and getting ready for sleep—each can include a few moments in God's Word. My day will be full—and my soul will be full. Intentional planting!
I'd love to hear your thoughts, and any tips on keeping yourself planted by the streams of water.