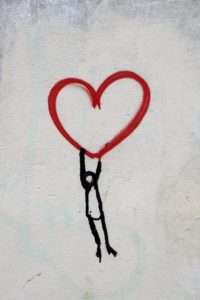 Happy Valentines Day! May you be smothered in hearts, flowers and chocolate! Love songs streaming on Pandora take me back to yesteryear. Lionel Richie and Diana Ross sing their duet "Endless Love." It sounds so dreamy.
But can we admit a little bit of skepticism on this day, when hype exceeds reality, and for many, loneliness replaces romance?
Broken relationships are not the exception—they're the norm. Love is fragile and fleeting. Life's most painful memories include love that was lost, love that did not last, love that came to an end. No matter how long ago, no one forgets those stinging words, "I don't love you any more." Solemn vows spoken at the altar, "till death do us part" could not guarantee the love would last till then.
For a million reasons, the love did not endure.
We can either despair that love has let us down, or we can celebrate the only love that endures. The Bible tells us, "God is love" 1 John 3:16. And in fact, it is included in God's description of himself, "The LORD is compassionate and gracious, slow to anger and abounding in love…" Exodus 34:6.
Tim Keller reminds us that God's power is clearly seen in his creation, but God's love is a wonder—we can't fathom it.
God chose to set his love on rebels. He took his enemies and made them his family. What kind of love is that!
The Apostle Paul asks the question, "Who can separate us from the love of Christ? Shall trouble or hardship or persecution or famine or nakedness or danger or sword?"… "No, in all these things we are more than conquerors through him who loved us. For I am convinced that neither death nor life, neither angels nor demons, neither the present nor the future, nor any powers, neither height nor depth, nor anything else in all creation, will be able to separate us from the love of God that is in Christ Jesus our Lord." Romans 8:35, 37-39.
So on this Valentines Day, let's celebrate with the saints from every era, the enduring love of God.
"Give thanks to the LORD, for he is good;
his love endures forever." Psalm 106:1; 107:1; 118:1
Tell us some of your favorite Scriptures about the love of God.