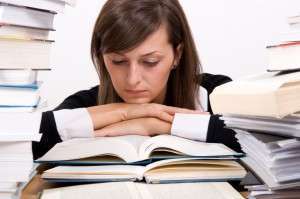 Which is more beneficial, to study the Bible or to memorize the Bible? Good question. I would say that it shouldn't be an either/or proposition. Both reveal God and draw us close to Him.
Many of you already know my story, that I didn't grow up in church and had no Bible background. When I became a Christian at age 21, I began a daily Bible-reading ritual. But at that time I didn't feel the need for intense Bible study. I went to Bible studies and even taught Bible studies myself (Yikes!). My philosophy back then was, "Let the experts study and they can give us the highlights." I wasn't convinced that the extra effort required to study the Bible would be worth it.
It's sad to admit, but I felt comfortable fitting in with the ignorant majority.
When I began to memorize, at age 35, my convictions about the importance of God's Word transformed my desire to study the Bible. I reached the point where it wasn't enough just to know the words of 2 Timothy; I wanted to know what they meant, and that could only come from studying. Memorizing Scripture gave me the motivation to study at a more in-depth level. It gave me a hunger to understand what was written.
Studying the Bible opened up so much more than I could get from just memorizing.
I believe wholeheartedly in studying the Bible. At age 51, I dedicated myself to a 4-year seminary degree, which ended up taking 5 ½ years. God granted me this great privilege and the desire of my heart.
Both memorizing and studying will produce fruit. One difference is that studying requires a block of time—and for me—solitude and quiet. For that reason, I strongly advocate memorizing because it can be done every day, while you're busy with menial tasks, and it keeps you communing with God throughout the day. I don't have a slot on my daily schedule for Bible study, but there's always time to memorize.
The disciplines of memorizing and studying work in tandem in my life, so that I can know the heart of the passage, not just know the passage by heart.
What would you like to add about studying the Bible VS memorizing it?