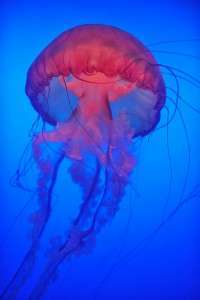 Sometimes the best lessons come from children's books because simple truths are often the most profound. This blog post comes from:
Jellyfish Can't Swim & Other Secrets from the Animal World.
Marjorie Hodgson Parker, Chariot Books, 1991.
Did you know that a jellyfish can't swim? It just floats along in the sea, catching food in the long thread-like "legs" that trail behind it. Since it can only float, the jellyfish has to go wherever the current takes it. And sometimes the current takes it where it doesn't want to go!
When a jellyfish gets washed up on the sand, it becomes totally helpless. Since it can't move to get back into the water, the jellyfish just dries up and dies there on the beach.
We can learn a lesson from the "wishy-washy" jellyfish. Sometimes Christians "float" along with the crowd and do what others are doing, just because that's the easy thing to do. The Bible tells us not to go along with others just because "everybody's doing it." We need to do what the Bible says is right, even if it means swimming against the tide.
If you go God's way, you won't end up washed up, dried up, and out of luck. God's way is best, even if you have to go it alone.
SCRIPTURE:
Don't copy the behavior and customs of this world, but be a new and different person with a fresh newness in all you do and think. Then you will learn from your own experience how his ways will really satisfy you. Romans 12:2 TLB
REMEMBER:
A jellyfish just floats along,
Till it's washed up on the sand.
If you will "swim" and go God's way,
You'll like the place you land!
WHEN YOU PRAY:
Ask God to help you go His way, even when others don't.
This book is currently out of print but here is a link to Marjorie's website. www.marjorieparker.com
…………………………………………………………………………………………………………..
I share this story because this is one reason why I memorize Scripture. Without it, I'm a jellyfish floating along with the current. Can you relate?