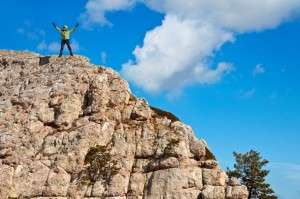 Jumping off last week's blog on meditation, I now take it one step further. My point, that meditation brings insight from God, leads us to ask, "Is that the entire purpose of meditation, to give us insight into the text?"
In addition to Psalm 1 and 2 Timothy 2:3-7, another passage expounds on the reasons why God wants us to meditate on His Word. God speaks to Joshua, the new leader of Israel, after Moses.
"Be careful to obey all the law my servant Moses gave you; do not turn from it to the right or to the left, that you may be successful wherever you go. Do not let this Book of the Law depart from your mouth; meditate on it day and night, so that you may be careful to do everything written in it. Then you will be prosperous and successful" (Joshua 1:7-8).
Don't miss the so that in the text. The key to Joshua's success was not meditating on God's Word—it was obedience to God's Word, to do everything written in it.
OK, so what could Joshua do to insure his obedience? God mentions two things:
• 1. God's law should always be on his mouth.
• 2. He should meditate on God's law day and night.
Memorizing Scripture and meditating on it incorporates these two things.
By continually saying God's Word and thinking God's Word, we're more likely to do what it says, and less likely to stray to the right or the left.
Did you notice that God did not say, "This law should always be within reach" (having it on your phone or on index cards)? We must keep it on our lips.
God's promise to Joshua that he would be prosperous and successful did not refer to economic gain as some might suppose today. Rather it refers to the success of furthering God's agenda, in Joshua's case, the military battles ahead.
In the same way, a pattern of obedience allows us to be successful in advancing God's cause.
Meditating on God's Word day and night gives us insight into the text, as we saw last week. Continually keeping God's Word on our lips and in our thoughts increases the probability that we will do everything written in it.
This passage epitomizes the heart of Bible memorizers—we don't just want to know, we want to do.
How has meditating on God's Word helped you to do what it says?