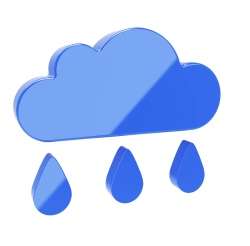 The rain forecast for today comes as no surprise—it's April. And we know that April showers bring May flowers. We overlook the nuisance of rain because we delight in landscapes beautified with flowers. And another essential reason—our food supply depends on it.
God's lessons from nature also come as no surprise.
"As the rain and the snow come down from heaven, and do not return to it without watering the earth and making it bud and flourish, so that it yields seed for the sower and bread for the eater, so is my word that goes out from my mouth: It will not return to me empty, but will accomplish what I desire and achieve the purpose for which I sent it." Isaiah 55:10-11
God compares His Word to the rain and the snow that water the earth and cause life and growth. We know this. But what is it about God's Word that causes the life and growth? The answer comes from the two previous verses, also familiar, and so easily missed.
"For my thoughts are not your thoughts, neither are your ways my ways," declares the Lord. "As the heavens are higher than the earth, so are my ways higher than your ways and my thoughts than your thoughts." Isaiah 55:8-9
There's our answer: the reason God's Word causes life and growth is because it contains God's thoughts and God's ways—and we can't find these anywhere else—there's no other source. When we get into God's Word, it becomes our pipeline to God's way of thinking and doing things.
We experience growth, not from thinking our own thoughts, but from thinking his. Our maturity comes not from merely knowing about God's ways, but from bringing our ways into alignment with his. The point of growing is to grow more like Him. This is how God's Word accomplishes his desire and achieves the purpose for which he sends it.
As we stay in God's Word, abide in his Word, it does its work in us. It causes life and growth—and multiplies seed for further life and growth—not only for us, but also for others we are in contact with.
We can't live God's ways on our own. And we can't think God's thoughts on our own. He knows this. That's why he gives us the Scriptures. We can't read God's mind, but we can read his Word.
Let it rain. Let it rain. Lord, send your Word to your people and let the fruit multiply around the globe.