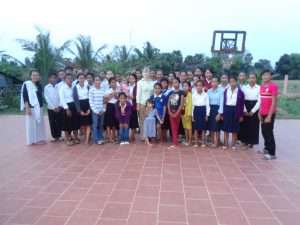 I began the wonderful journey of scripture memorization in my forties. I am now 61 years old and have had the privilege of going half way around the world to teach the children in Cambodia the value of the memorized word of God. I began memorizing the word after a Wed night bible study on the book of James at our little country church. I soon found out the joy of God's word going over in my mind throughout the day. It is a wonderful way to renew your mind daily. Some of the books I have memorized are James, Philippians, Colossians, Philemon, Jude, Titus, Jonah, and I am currently working on Ruth.
On Jan 7, 2017, I took off on an almost thirty hour flight to Cambodia. I went to visit my son and daughter in law (Luke & Sokha) who are missionaries in Ank'jeay village. Upon arriving I felt like I'd already been through many dangers toils and snares. Ha! Even though it was my second time to Cambodia, it was a time of venturing out of my comfort zone and putting my complete trust in God.
First of all it was a joy getting to know my long distance grandchildren. Hannah was two and a half last time I saw her and is now four and a half. We had lots of fun with tea parties, play dough, and puzzles. This was my first time to meet seven month old Asa . He is a very busy boy and just beginning to crawl. He seems to enjoy life in the village with the constant attention.
Now a bit about life as a visitor in a missionary's world. One of my highlights of course was just experiencing life as a villager. Since I am a country girl I adapted well. Not to mention eighty degrees in January. Not bad. One of the things these missionaries do is teach English classes in their yard to the children. It was great to meet them and interact with them. Some are very fluent in English.
I read Bible stories, played basketball, and oh yes, the girls and I had a hoola hooping contest. You are never too old to hoola hoop. After meeting these beautiful children I know why Cambodia is referred to as "The Land of Smiles."
I was given the opportunity to recite a couple of the books of the Bible that I have committed to memory. I recited the book of Jonah and the book of James. I taught them the value of the memorized word of God. On my last night in the village three of the students had memorized Psalm one and recited it word for word. I never dreamed that when I started memorizing scripture in my forties that God would send me to the ends of the earth. World Traveler was not in my vocabulary but God had a different plan for my life. What an adventure!