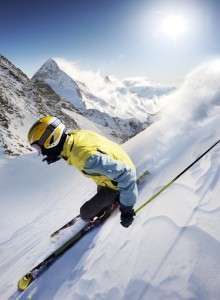 An Olympic hangover pervades after a fortnight of winter games. The world's premier athletes, vying for gold, magnetize us to our flat-screens, and we return each night for a showcase of fierce competition and national pride.
More than just the pinnacle of sports, the personal dramas intrigue us—stories of incessant training, injuries and setbacks, childhoods lost, financial sacrifice, family tragedy and adversity. Focused, determined, relentless, they long for the prize. When they finally achieve their GOLD, we applaud them and share their moment. A lifetime of hardships now rewarded.
For every triumphant athlete dozens lie in their wake. The stats reveal that 2800 athletes competed, and only 294 medals were given out. I'll do the math for you. Considering that some athletes got more than one medal, this means that at least 2,506 returned home empty-handed and empty-hearted. Of the 88 countries participating, only one third stood on the podium. Many were eliminated in the qualifying rounds, never even having a chance to compete for a medal.
Dreams shattered, opportunities expired, bank accounts depleted. No doubt, many are grateful to have had the opportunity. But, for many of these highly competitive athletes, some who lost their race by 3 one-hundredths of a second, coming home medal-less is a bitter pill to swallow.
The Apostle Paul used competitive sports to teach spiritual truths. In ancient athletic contests the winners wore a crown, a vine wreath.
"Do you not know that in a race all the runners run, but only one gets the prize? Run in such a way as to get the prize. Everyone who competes in the games goes into strict training. They do it to get a crown that will not last; but we do it to get a crown that will last forever" (1 Corinthians 9:24-25).
"Train yourself to be godly. For physical training is of some value, but godliness has value for all things, holding promise for both the present life and the life to come" (1 Timothy 4:7-8).
"I have fought the good fight, I have finished the race, I have kept the faith. Now there is in store for me the crown of righteousness, which the Lord, the righteous Judge, will award to me on that day—and not only to me, but also to all who have longed for his appearing" (2 Timothy 4:7-8).
Eternal, imperishable crowns don't require herculean strength but they do require training. God gives us his Word to train us in righteousness so that we will be equipped for every good work (2 Timothy 3:16-17).
So many spiritual lessons can be drawn from the Olympics. What are some that impacted you?