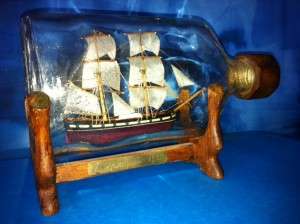 Nestled among other trinkets from my travels, a unique ship illustrates God's involvement in our lives.
Having traveled to Russia eight times, I've become familiar with many types of crafts and handmade souvenirs found in the outdoor markets. Far exceeding the others, the ship in a bottle fascinates me.
There's nothing special about the bottle itself; the intrigue lies in the meticulous detail seen through the glass.
Like me, many of the uninformed wonder, "How do they get the ship into the bottle through the narrow neck?" The answer—they don't. They build it from the inside!

If you happen to visit the market at the right time, you can watch the artisan assembling his work of art.
Four things are necessary:
• a clear bottle
• a skilled craftsman
• a long stick-like tool, and
• a model to work from.
The craftsman takes delight in his project, uses his tool with precision, and carefully constructs the ship using miniature pieces. He works toward an exact replica of the model.
These ships can't be mass-produced; they have to be constructed one at a time.
I see an analogy to our sanctification, the process by which God makes us like His Son.
• we are the glass bottle
• the craftsman is the Holy Spirit
• his tool is the Word of God, and
• the model is Jesus
We know that the Holy Spirit's tool is the Word of God because Jesus had prayed to His Father, "Sanctify them by the truth; Your Word is truth" John 17:17. God's intends to use His Word to make us like His Son.
The Holy Spirit builds from the inside, slowly and methodically, with God's Word as His tool. The perfect model He wants to replicate in us is Jesus, the magnificent One.
As the Holy Spirit and God's Word work together, others will see the emerging masterpiece—Jesus in our lives—and wonder how He got inside.
Do we sometimes forget the Bible's role in our sanctification and think we can get there on our own?