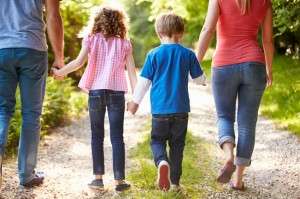 Enthusiastic parents eagerly sign up their children to memorize Bible verses. Like sponges we want them to soak up all the good things in the Bible. We want them to:
• know how much God loves them
• discern truth and error in what they hear at school
• stand alone against peer pressure
• trust God's Word as a source of wisdom for whatever life hands them
• find comfort when life disappoints them
• avoid the pitfalls that await them in this ferocious world.
And the list goes on…
Ironically, there's a lot of push-back at the suggestion that parents should also memorize God's Word, not just help their children to memorize. Busy parents cringe at the thought of one more thing on their plate. I totally get that.
This counter-productive attitude, however, leaves children wondering why adults don't need God's Word in their hearts. Perhaps the purpose was to learn, and they've already learned it all.
May I suggest a completely different approach? Don't view Scripture memory as something to do but rather Someone to pursue.
The One who created you calls you into a deep, intimate relationship. He already knows you perfectly, and likewise He wants you to know Him in the depth of your soul. God chooses to reveal Himself in His Word and those who seek Him there will find sweet communion.
In every passage of Scripture God discloses something about Himself: His flawless character, His strategic plan, His paradoxical values, His exceedingly great desires for His children. We find delight in memorizing God's Word when we realize it connects us to Him—it's all about the relationship!
Our motivation for wanting our children to memorize God's Word should be so that they will develop a vibrant relationship with God who will be there for them at every point of need in their lives. The list above will be accomplished far more effectively than any learning exercise.
Let's show our children by example that memorizing God's Word binds our hearts and minds to the One who called us by name and lay down his life for us. Let them see that through hiding God's Word in your heart:
• you are growing and experiencing new depths of the love of God.
• you are able to discern truth from error because God is truth, and you know Him.
• you stand courageously against adult peer pressure because your God stands with you.
• you run to God first as your source of wisdom.
• you find comfort when life disappoints you, because the God in those worn-out pages consoles you.
• you avoid the world's pitfalls because He is the lamp at your feet, and the light in your path.
Children learn what they see in you. Show them that knowing God is your greatest treasure and memorizing His Word connects you to His heart.