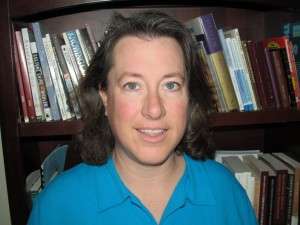 My story with Scripture memorization is not uncommon, nor is it finished. I am definitely a work in progress!
Growing up in a Christian home, I was very familiar with the Bible. I had some verses memorized but more often I had a general idea of where various things could be found in the Bible – a useful tool but not the same as having the Word of God actually in your heart and mind.
Being a busy mom (we homeschool our 7 children) I liked to help my children with their Bible verses but didn't really think I had time to work on memorizing (especially long passages) myself. Enter dear friends who started up an all-age memorization group! Our "director" was excited and motivating but then he gave us some tools; one tool being Janet's book, His Word in My Heart.
The lesson that most resonated with me was that I may not have long blocks of time to memorize but I do have many small ones. What a blessing, truly, it is to redeem all those small moments throughout the day for a greater purpose! The other lesson that has kept me going is learning that the process is as important as the goal.
Before being given Janet's book, I had chosen Titus as the book I wanted to work on. I was excited to see that Titus was the book Janet used to teach memorizing a book! Learning to study as I memorized helped in making the verses my own. I made it through Titus! My very first book!
Then, though I intended to review often, I did not set up a real plan and promptly forgot what I had learned. At first I was quite discouraged but then the lessons came back to me. God met me in the process! Those days of meditating on Titus – His very words – were exactly what I needed at that time. I also am hoping that re-memorizing it will come a bit easier this time around.
So, I am currently working on 1Peter. I am setting up a journal to help me to study/meditate on the verse as I memorize it. I am also working on reviewing verses I have memorized in the past. Our group works together to find tools to help us memorize and our gathering together to recite is one of my very favorite times each month!