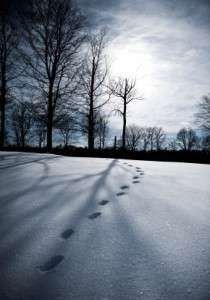 Different translations of James 1:27 read, "keep oneself from being polluted by the world" NIV, "keep oneself unstained by the world" ESV, "Refuse to let the world corrupt us" NLT.
Believers in every generation struggle with the allure of the world, the enticement of the culture's values and standards. Temptation, as old as Adam and Eve, still lurks around every corner, multiplying its victims. For me, a few-too-many episodes on HGTV capture my imagination and carry me downstream to a place I do not want to go. Scripture, the antidote for temptation, shows me the way of escape.
Notice the intentionality in the psalmist's words.
"How can a young man keep his way pure?"
By living according to your word.
I seek you with all my heart;
do not let me stray from your commands.
I have hidden your word in my heart
that I might not sin against you.
Praise be to you, O Lord;
teach me your decrees.
With my lips I recount
all the laws that come from your mouth.
I rejoice in following your statutes
as one rejoices in great riches.
I meditate on your precepts
and consider your ways.
I delight in your decrees;
I will not neglect your word." Psalm 119:9-16
Living according to God's Word instead of according to the culture requires daily intentionality. Seek God with all our hearts, pray that God will restrain us, hide God's Word within, be teachable in learning God's ways, and keep God's Word on our lips. Meditate on God's precepts and make them our joy and delight. Dear brothers and sisters, we must not neglect God's Word.
The apostle Peter tells us that God has given us his very great and precious promises so that through them we may escape the corruption in the world (2 Peter 1:4).
I can tell you from experience that memorizing Scripture has helped me tremendously, but I still have to guard myself against complacency and letting down my guard. The enemy of my soul connives and schemes and tantalizes me with false promises. He lies to me, tries to incite me to fear, and heaps guilt on my weaknesses. Knowing God's Word is only part of the battle. To be vigilant against my enemy, I must go beyond knowing God's Word. I must live God's Word.
What thoughts can you share on pursuing a pure life? What helps you?