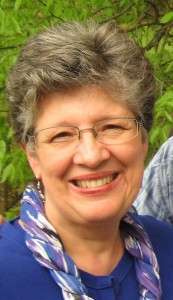 I was sitting in the audience as Janet Pope was speaking. It was perfect timing, just the way the Lord does things. I'd been challenged for some time by Jackson, our 3-year-old grandson (now 4), and the way he was memorizing Scripture. In fact, our favorite Christmas gift last year was a DVD of him reciting 5 Psalms with great expression (1, 8, 19, 23, and 96, I think – he also has down 46 and 100). There's nothing quite like hearing your grandson say,
"From the lips of children and infants you have ordained praise because of your enemies, to silence the foe and the avenger"! (Psalm 8:2)
It took me a few months to get moving, but I finally decided in August that I could at least catch up with Jackson – and even went public with my intention.
But it was slow going, partly because … oh, there are always excuses, aren't there? Mine was sheer tiredness and a lack of motivation to do much of anything. In fact, I started a sabbatical in July from my ministry role, which has required a lot of travel. My (professional) counselor friend and prayer partner diagnosed it as burnout; my doctor – after running many tests – called it chronic fatigue, and told me to go home and rest. It's been a challenge to learn how to do just that! But the Lord has given me grace to disengage from work, which was amazing in itself, and to focus on getting healthy in every way, as well as learning to be quiet with Him in a new way.
That's when Janet showed up. I bought her book and read it through. I have continued memorizing and meditating on "Jackson's" Psalms, and should finish up Psalm 96, my last one, this week. I have some other Psalms I'd like to work on before tackling Titus, but I'll get there. I totally related to the part in Janet's book about being disciplined and I loved the cleaning-the-oven story—so encouraging to me.
There's something strange that I've been noticing this past week. The more time I spend memorizing and reviewing the Psalms I'm working on, including in the middle of the night when I sometimes can't sleep, the less tired I feel.
I keep thinking of Psalm 19:7 "The law of the Lord is perfect, reviving the soul," and
Psalm 23:2-3 "He makes me lie down in green pastures, he leads me beside quiet waters, he restores my soul."
And I wonder if in restoring my soul, He's going to restore my energy? Whether or not this leads to renewed physical strength, though, I know that this is the path on which the Lord is taking me to strengthen my soul and to deepen my relationship with Him. I love Janet's focus— that this isn't about memorizing Scripture, this is about getting to know Him more intimately.