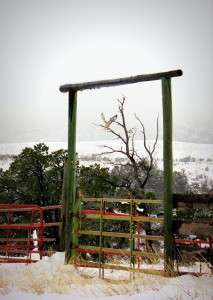 I look out the window. Another black and white day—nothing's new, nothing's changed. Then all of a sudden, an unexpected flutter. Out of nowhere a majestic bird appears. I marvel at its wingspan and the precision of its landing. I seize the moment to linger. My eyes refocus and follow every twitch.
Curiosity wells up inside me. What kind of bird is this? Is he looking for food? Is her nest close by? Does she see me watching her? I retrieve the binoculars to get a close-up. My pounding chest fills with reverent awe as I absorb the view. What a magnificent creature God has made!
The busyness of my day forbids the time to gaze and amaze. So I'll check on my bird later and revisit the wonder. As surely as the clock moves on, so does my bird. But now she's not just a random bird on a branch—she's my bird. I'm enriched by her visit, and I'll keep watching for her.
Sometimes reading the Bible is like an ordinary winter day. The familiar text seems lifeless, black and white, and cold. It begs for fresh insight. Then without warning something living enters the picture. Words jump off the page—words I've read dozens of times before, but have never seen.
I delight in this interruption in my morning. Fresh excitement triggers my thumping heart and conjures up endless questions. Why did the author mention these details? What's the connection to the rest of the passage? Why is God showing me this today? I must look closer and learn what it means.
On those days I long to spend hours mining gold, but often the day's demands forbid it. So I check back later and return to glean more—a curious explorer seeking gems. The Holy Spirit guides me and unearths hidden nuggets. Others wait for another epiphany.
Full of mystery and intrigue, the Bible never runs out of insight. We're the ones who grow stale. Our eyes settle for the familiar black and white, and we turn each page with low expectation.
So today I remind myself, and all of you, that this uncommon book lives and breathes. Designed by God to penetrate crusted hearts, it awakens dull minds and rattles our equilibrium. It's sharpness lies not in human eyes, but in the Author who speaks. What a magnificent creation!