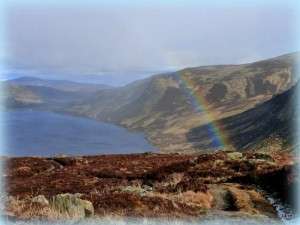 June 2003 I memorized Psalm 121. I love this Psalm, "I lift up my eyes to the hills – where does my help come from? My help comes from the Lord, the Maker of heaven and earth." Isn't that sublime? I have a comfortable chair in my room where I can sit and look to the hills of Angus, and Psalm 121 is never far away.
In March this year my husband and I went for a hike in these hills. We decided to drive to the top of Glen Esk, hike along the side of Loch Lee and go as far as the Falls of Damff. We did as we had planned but were already at the falls by lunch time. My husband was eager to go further and our old map showed that we could climb up by the falls, cross over the moorland plateau and come down on the other side of Loch Lee. Off we went climbing higher and higher. We got above the snow line and the going became more difficult. The snow covered any path that might have been there, the old map wasn't a lot of help and piling up behind us was a snow storm. I slithered around and my boots got full of snow and my socks got wet and then into my mind Psalm 121. "I look to the hills", well I certainly was doing that, remember, "my help comes from the Lord". "He will not let your foot slip", I needed that assurance as the storm clouds rolled in closer. "The sun will not harm you by day or the moon by night", my heavenly Father is in charge of the sun and the moon and even this approaching blizzard.
"The Lord will keep you from all harm", eventually we reached a high place and there in the distance, away below us, sparkling Loch Lee. Our Father in heaven had, indeed, kept us from harm. Now that we could see where we wanted to go we continued with renewed vigour. We came on a track and started to head down while up on the higher ground the snow storm was now swirling and blowing, 'Thank you heavenly Father that you watch over us'. And then He gave us a rainbow, "…the Lord will watch over your coming and going both now and forever more." Amen.