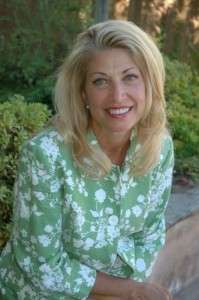 One day in 1992 I was at a women's conference at Precept Ministries in Chattanooga, TN. I was called to the platform spontaneously by the song leader whom I did know. She asked me to share some Scripture with the group. I recited the entire book of Colossians. Somewhere in the audience was Janet Pope and you know the rest of her story. But my story has been very different than Janet's…
Craig, my husband, after coming to Christ, purchased me a packet of scripture memory cards. I truly thought people were "religious freaks" who did something like this☺. Three years later Craig and I were walking down the isle of our church in Charlotte, NC (Calvary Church) to be married. When we started Precept we were both asked to teach. We were also expecting our first child. On February 15, 1988, everything came to a halt when I delivered our beautiful stillborn son, James Caleb Day. This changed our lives forever and I couldn't possibly share about everything on this blog so I am going to direct you to our websites (calebministries.org is a 501(c)3 non profit organization) and you can read my testimony at calebcounseling.org and click about us and you will see my story there.
Several years later I was asked to teach Precept again and my hearts desire was to memorize the book I was teaching which was 2 Timothy. I have memorized seven books of the Bible and continually go over them almost on a daily basis. If you read my story you can understand that I had a lot to deal with in my life…drugs, alcohol, sexual sin, an abortion at age 19, my first husband's tragic death at age 23, our stillborn son, a miscarriage, and years of infertility.
Three years after Caleb's home going God placed on my heart Caleb Ministries. Next year we will be celebrating 25 years of God's faithfulness in helping countless families who lose a baby or who have suffered infertility or who are post-abortive. Memorizing God's Word changed my thought life, which ultimately changed my heart forever. Taking my thoughts captive (2 Corin 10:5) and renewing my mind with Truth (Roman's 12:2) are a part of my daily life. I am no longer bound by my past but by the finished work of Jesus on the cross as I truly live in His forgiveness!
JANET'S FOLLOW UP TO SANDY'S STORY: I would love to share briefly how I found Sandy after 22 years of not knowing her name or who she was. Back in 1992, I went to that women's conference in Chattanooga with 4 friends, one of whom was Claire Cornett. Last summer Claire was in Dallas visiting. She asked me if I had ever found the woman whose Scripture recitation changed my life. I said, "I don't even know her name, how can I ever find her?" Claire then said, "I think I can find her. She has a ministry and she gave out brochures at the Conference. I think I have one at home. I'll go look for it." I still thought it was impossible that Claire would have a brochure from 22 years ago. A few weeks later, Claire texted me with a picture from Sandy's brochure and said, "I think this is her." Why had she saved that brochure for 22 years? I then Googled Sandy's ministry, got her address, and sent her my new book (a revision of the first one) that had just been out for a few weeks. I wrote her a note, put a bookmark on page 14, and asked her to read the page and tell me if that was her. About 10 days went by and then I got an email saying, "You found me!" When I got the email I was so flabbergasted that I couldn't even write back until the next day. So here she is with her own story to tell.
I would like to say publicly to Sandy, "Thank you with everything in me, for being ready and prepared that day in the spring of 1992. Thank you for sharing God's Word from an overflowing heart. It changed the direction of my life and I am beyond grateful. Over the years, hundreds of people have thanked me, and now I thank YOU. You were the first link in the chain and who knows how many are now memorizing God's Word because of you. God was so king to let me find you. I'm still amazed!"
And a shout-out to Claire Cornett for keeping that brochure for 22 years!