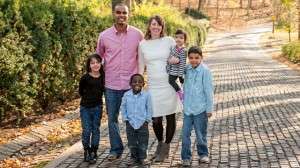 For several years, I had struggled with my faith—not in Jesus, but in Scripture. As someone who had been hurt by the Church, I didn't feel confident that the Church had rightly protected and passed on God's truth. The more questions I asked, the less satisfying the answers felt, and the more I felt myself floundering for solid ground. In God's grace, He led me through some wilderness before eventually meeting me in my need by relieving my burden of doubt.
In the wake of that relief, cancer struck, and I found myself in another wilderness of chemotherapy, radiation, and a rather grim prognosis. It became imminently more urgent to rest on God's promises, but I found that in those years of skepticism and doubt where I neglected God's word, I didn't quite remember what God's promises were.
At the beginning of 2013 (in the midst of my chemo treatments), I stumbled across Ann Voskamp and her scripture memory challenge. As I read her thoughts on memorization, I knew that was my next step. I knew that I needed the Bible living inside me.
So, I started with the Sermon on the Mount (Matthew 5-7). Three chapters, a lot of familiar words. I started to learn them. Precisely. And the better I knew it, the more it blazed relevant in every situation of my life.
I entered my season of gluttony on God's word. Shoving it in my mind, hoarding words, working them over in my brain again and again without analysis—only consumption. Annie and I, before every nap time, reading and hearing, bringing words into life.
After Matthew, it was the book of Philippians. Then, a few chapters in John. Now I'm in Isaiah 43, and I want to stay there forever. For me, it's whole chunks of Scripture, not scattered verses. My goals will be a minimum of a chapter, but hopefully strain for the whole book. (Except Isaiah. With four kids and a baseball-sized chunk of my brain missing, I cannot manage the book of Isaiah.)
I've fallen in love with these words. I don't understand Isaiah 43 at all, but it is beautiful and it is alive and it's living in my heart and I can't speak it without worship. Frankly, I don't care what it means—I just know it's God's.
And God gave it to me. And I'm never letting it go again.
"when you pass through the waters, God will be with you;
and through the rivers, they will not overwhelm you.
When you walk through fire, you shall not be burned,
and the flame shall not consume you." Isaiah 43:2
(photo credit: Shannon Perlow)