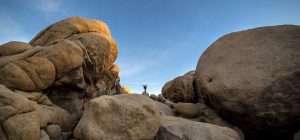 I got up this morning dreading the day. With coffee in hand, I headed to my desk to read the psalms and find solace. I read the first words on the page and tears cascaded down my face. I cried till the Kleenex ran out.
Today is one of those days when life hurts. I feel blindsided by people who did not respect me. I feel like God let me down. I feel frustrated with my prospects and where to go from here.
Now what?
This is when faith meets me at the crossroad. This is when faith is tested and refined—times when nothing makes sense and I can't see a way forward.
"My soul finds rest in God alone;
my salvation comes from him.
He alone is my rock and my salvation
He is my fortress.
I will never be shaken." Psalm 62:1-2
So ironic, because this is one of the psalms I am teaching this summer at my church. I've been working on it for several days. Time to put into practice what I teach.
What does it mean that God is my rock, that he alone is my rock?
Israel is a land of rocks—they're everywhere. But David, who wrote this psalm, is not thinking about stones here. He has in mind the photo above. That's the kind of rock he's talking about. These rocks are solid—symbols of strength. And they're not going anywhere.
The metaphor of God as a rock is used twenty times in the psalms. Our God is strong and dependable—someone you can count on when everything else crumbles. God is our solid rock. He will not change. And he will not move.
Sometimes we say things like, "My husband is my rock," "My best friend is my rock," "My dad is my rock." Can we have a moment of honesty here? People let us down—even when they don't mean to. People change. Sometimes they back away, sometimes they move away. No one is 100% reliable—I can't even count on myself. You and I are restricted by our own limitations. Good intentions will take us only so far.
God alone is my Rock. He is the only stability in my life. I will not be shaken from this conviction. If it seems like God has let me down, that's because I don't have the whole picture. I see only a portion of what he sees. His character never changes and his good plan for me never wavers.
When life disappoints me and threatens to pull me down, when circumstances rattle my equilibrium, I will cling to my Rock, and seek rest for my soul. I will walk by faith and not by sight.
God alone is my Rock and I will trust him. He will not change. And he will not move.
I'd love to hear your thoughts.