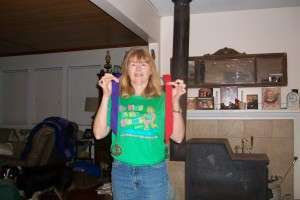 My name is Teresa. My husband and I own and operate a grain and livestock farm. I also work as a bank teller.
One evening while attending a Wednesday Bible study in our little country church, where we were studying the book of James, I decided there was alot of good stuff in there on how to live our lives and I committed to memorize it. I have recited it to our church and also to our community Thanksgiving service.
That became the start to my memory verse addiction. I have went on to memorize Philemon, Philippians, Jude, Jonah, Colossians, and Titus, and many other passages such as Daniel 1. That I just completed.
The benefits are out of this world! I have more joy in my life. I renew my mind daily meditating on the memorized word of God. In my "farmer language" it is like a cow chewing it's cud. After you get it memorized we can bring it up and digest it.
Many of my verses have been memorized while on my daily walks.
I work as a T & T Leader in Awana. I have recited the book of Jonah to them and try to instill in them a love for God and his word.