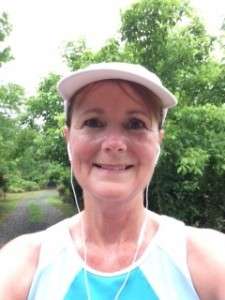 About a year ago while at a Christian bookstore, I was browsing for a good read. You see, I'm not much of a reader. I'm an RN and a Jesus follower so if it's not something I have to read to be a better nurse or my Bible, I'm not much interested. On a bargain table was "One Thousand Gifts," by Ann Voscamp. I bought it, couldn't put it down once I started reading it, and believe God used it to create a growth spurt in me that I pray never stops! The Spirit multiplies in a grateful heart.
Jesus has been my Savior since I was a little girl. I've served Him in my local church as a Sunday School teacher and VBS director for 30+ years.
I've read the Bible through time and time again but I've never experienced such understanding, closeness and strength in God as I have since adopting the practice of memorizing large portions of scripture.

In the past I would commit verses to memory, and even passages such as the 23rd Psalm, the Lord's Prayer, the Beatitudes, the Ten Commandments and such, but there came a place in my "pilgrimage" last year when I felt the Holy Spirit call me to a deeper ministry. He spoke to my heart that I had to prepare for it and getting more of His Word in my heart was where I needed to start.
I started with Romans 8, because when I felt the call my first thought was that I was not worthy because of my sinfulness. I needed the teaching of this chapter to begin to follow where the Lord was leading. I dearly love that chapter; in it we learn there are two ways to walk: according to the flesh and according to the Spirit. Jesus came to give us forgiveness and freedom. He paid the price for our sinfulness and there's nothing that can separate us from His love.
Then came Philippians 4, where He shows us how to have peace, contentment, and control of our thoughts. At present, I am absolutely in love with John, Chapter 1. How beautiful and merciful the grace and truth that came by Jesus Christ! How careful John the Baptist was to give the glory to Christ. The glimpse into His irresistible personality at the close of that chapter. I became aware of Janet Pope's Blog from a link on Ann Voscamp's Blog and now these two ladies are my champions and help me by sharing the gifts God has given them to minister to the body of Christ, and I am so thankful!
My brain has some years on it, and I am pretty new at this, but I can wholeheartedly say that if you want to grow spiritually in Christ, know Him better and be led by His Holy Spirit, read, memorize and meditate on scripture. Often and in large doses!